The Week's Funniest and Most Intriguing News (week starting August 29)
As the weekend gets closer and closer, your productivity goes out the window. You don't feel like working and you're not really willing to go over serious news about serious topics.
So, just like the
weeks
before
, I invite you to check out 10 news that will put a smile on your face, make you laugh, and probably even say 'wow' or 'what the f...'
1. Macs are as useless as a hat for a cat, says Microsoft

Microsoft released a new ad for the Surface Pro 4, touting its features and bashing Apple's Mac for being well, basically useless. Or as useful as a hat for a cat.
"With a detachable keyboard, pen, touchscreen, and full Office, the Surface Pro 4 is the one for you," says Microsoft.
2. Play 400+ PS3 games on your PC with PlayStation Now
Sony's
PlayStation Now
subscription service has recently been made available for Windows PCs. Subscribe and you'll have access to a library of more than 400 games that you can stream to your PC.
Take advantage of the 7-day free trial to try all
400+ games
for free.
3. Sheep helped the Faroe Islands make it on Google Street View
What the Faroe Islands lack in population, they more than make up for in sheep. The islands are home to some 50,000 people and 70,000 sheep. Which gave Durita Andreassen a great idea: Sheep View – use sheep to document the Faroe Islands for Google's Street View.
Google took notice of the Sheep View project and decided to help the Faroese by supplying them with a Street View trekker and 360 cameras via its
Street View camera loan program
.
"Now that the Faroe Islands is supplied with a Trekker and 360 cameras, residents and tourists can assist the sheep in collecting Street View imagery of their beautiful lands using selfie-sticks, bikes, backpacks, cars, kayaks, horses, ships and even wheelbarrows,"
said
David Castro González de Vega, Google Maps Program Manager.
4. Acer made an interactive webcam for your pet

Meet Acer's
Pawbo+ Wireless Interactive Pet Camera
, a webcam that lets you chat, feed and play with your pet when you're away.
Acer plans to market even more Pawbo devices in the future.
5. WELT's smart belt does more than hold your pants up
WELT's fashionable
smart belt
is capable of tracking three main general health indicators: waist size, activity and food intake.
WELT is a spin-off company of Samsung Electronics.
6. Samsung and ASUS have new, circular smartwatches to offer
At IFA 2016 in Berlin, Samsung unveiled the brand new
Gear S3 smartwatch
.
ASUS unveiled a circular smartwatch as well: the
ZenWatch 3
.
7. Order pizza straight from your Apple TV
Earlier this week, Papa John's released a customizable
pizza ordering app
for the Apple TV. Use the app to order some pizza and you'll get a 25% discount.
"Pizza and entertainment are a natural fit," said 'Papa John' Schnatter, Founder, Chairman and Chief Executive Officer of Papa John's. "With the launch of our Apple TV app, we're hoping to make family movie night and friend gatherings around the TV even more enjoyable by delivering the same quality product and experience our customers expect in a convenient and interactive way."
8. Rogue One will feature an awesome-looking new droid
Meet the C2-B5, the Imperial astromech that will make its debut in the upcoming prequel film
Rogue One: A Star Wars Story
.
Rogue One will be released on December 16 in the US.
9. Logitech created the first ever silent mice
At IFA 2016 in Berlin, Logitech unveiled the
M220 Silent
and the
M33 Silent Plus
, the company's first ever quiet mice and the first mice in the world to receive the Quiet Mark seal of approval from the Noise Abatement Society.
The mice have the click feel but without the noise. The clicking noise has been reduced by over 90%.
10. Your chance to win a custom console
In honor of the PAX West gaming festival, ZeniMax is giving away 6 custom, ESO-themed Xbox One and PS4 consoles. Check out the details
here
.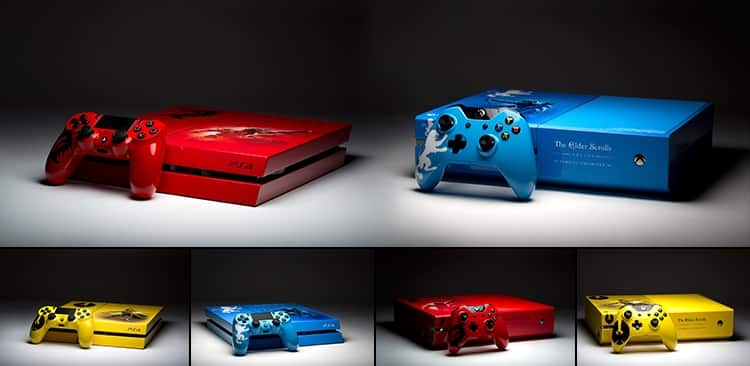 Also in honor of the PAX West gaming festival, Microsoft is giving away Xbox One S consoles that feature designs inspired by Gears of War 4, Halo Wars 2, Forza Horizon 3, Dead Rising 4, ReCore, Sea of Thieves, Battlefield 1, and Final Fantasy XV. Check out the details
here
.
Tags:
haha, WTF, funny, Microsoft, Apple, Surface Pro 4, Mac, Sony, PlayStation Now, Windows, PC, streaming, Google Maps, Street View, Sheep View, Acer, Pawbo, WELT, smart belt, Kickstarter, Samsung, Gear S3, ASUS, ZenWatch 3, Apple TV, Papa John's, pizza, Star Wars, Rogue One, Logitech, silent mice, PAX West, console
I Hope you LIKE this blog post! Thank you!
What do YOU have to say about this
blog comments powered by

Disqus
Popular News
With the blockbuster movie season upon us, Sony decided to celebrate the occasion with a sale: the Attack of the Blockbusters Sale that offers discounts of up to 50% (60% if you're a PlayStation Plus member) on a ton of PS4 video games.
Samsung's new T5 portable solid-state drive (PSSD) uses the latest 64-layer V-NAND technology, offers between 250GB and 2TB of storage capacity, has a lightweight and shock-resistant design that's smaller than the average business card, and delivers industry-leading transfer speeds of up to 540 MB/s.
You have an error in your SQL syntax; check the manual that corresponds to your MySQL server version for the right syntax to use near 's%' or tags like '%pizza%' or tags like '%Star Wars%' or tags like '%Rogue One%'' at line 1